Description
The OxiMax MT Series is a range of online Electrochlorination equipment designed to produce hypochlorite from water with salinities ranging from 500 ppm to seawater. The machines are reliable, compact, modular, cost effective and light weight, allowing wall mounting and simple expansion if required.
Applications
The MT Series is ideal for swimming pools, water parks, water features, offshore platforms and a range of water treatment applications. Many hundreds of MT Series are in daily operation around the world and three configurations are available:
The MTLS Series is designed specifically for low salinity (3 – 8 g/l) swimming pools and water features. Multiple modules can be combined to give outputs from 70 – 2,500 g/hr.
The MTS Series is designed for seawater (25 – 40 g/l) pools and modules can be combined for outputs from 300 – 3,000 g/hr.
The MTV Series consists of concentric tubes and is designed to be used with
virtually any salinity water. This new Series is enormously flexible and uses velocity cleaning to prevent scale build up on the tubes. Applications range from swimming pools, to on line water treatment, to offshore facilities.
Process
Saline water from the pool, sea or process is passed through the Cells at high velocity, giving high efficiency and self-cleaning. The control system allows DC power to be applied to the Cells, resulting in the production of Sodium Hypochlorite, which transfers back to the pool, seawater system or process.
The Hypochlorite output of each system can be varied either manually or by
automatic control, allowing precise disinfection levels to be maintained at all times.
Typically, Microprocessor control is used, although PLC control with a touch screen HMI is also available.
Advantages
No need for acid cleaning
Safe – no need to transport or store hazardous chemicals
Flexible – allows disinfection of water with wide ranging salinities
Modular – simple expansion and simple exchange of any parts
requiring maintenance
Simple, reliable, cost effective and low maintenance
Acid cleaning is either eliminated or minimised
Extremely long Electrode life, typically 5 – 9 years
High performance SC12 MMO Coatings used on Anodes for optimum
performance and life
Automatic control and monitoring by either Microprocessor or PLC with
Touch Screen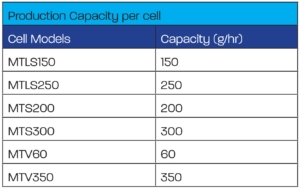 OxiMax MT Series Electrochlorination System Sizing
A typical OxiMax MT Series system consists of some or all of
the following:
OxiMax MT Series Cells
DC Power Supply
Microprocessor Control
Variable output controlled by ORP or
Chlorine Analysis
Example 1
If you have a 500,000 litre, low salinity swimming pool, we can offer an MTLS500/2 = 2 x MTLS (250 g/hr) cells
Example 2
If you have a 3,000,000 litre seawater swimming pool, we can offer an MTS3000/10 = 10 x MTS (300 g/hr) cells.
Example 3
If you have a 1,000,000 fresh water swimming pool, we can offer an MTV1050/3 = 3 x MTV (350 g/hr) cells.s.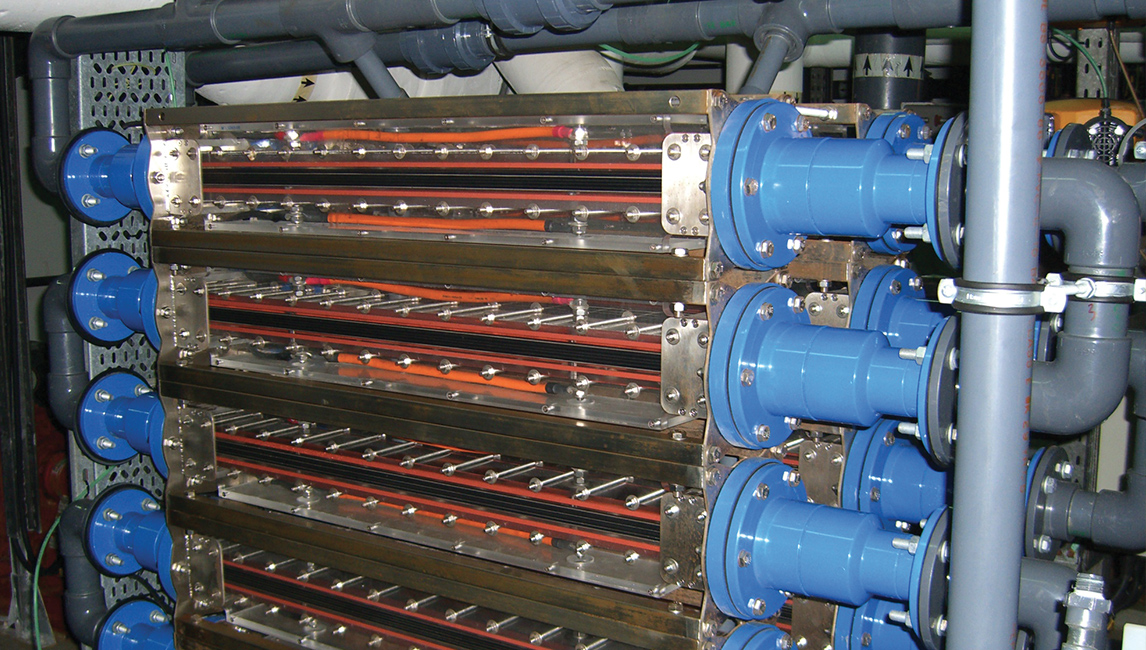 MTLS, MTS or MTV cells are used as the basic building blocks to form an entire OxiMax MT Series Electrochlorinator.

Testimonials
PERFORMANCE CERTIFICATE FOR OXIMAX ELECTROCHLORINATOR

Contracts Purchasing Officer – NRG Gladstone